Use Case:

Conversational IVR for Health Insurance

UPMC Health Plan

Is it possible to scale and cut costs with automated self-service without sacrificing "human touch" customer service?
The Scalability Challenge
How does a multi-award winning contact center scale their Healthcare Concierge service strategy and improve cost to serve while still maintaining their reputation for excellent "human touch" customer service?
The Solution
As phase one of a comprehensive omni-channel self-serve automation strategy, we first implemented a Conversational IVR to handle approximately 580,000 telephone inquiries UPMC Health Plan receives annually related to lost ID cards and insurance eligibility. We built custom call flows, integrated with UPMC's systems to personalize each caller's experience, and provided a desktop "screen pop" when calls required live agent assistance, shortening call handling time and eliminating the need for members to repeat information. The project was completed in three short months and launched at the beginning of open enrollment in 2015.
The Results
The results have been impressive: the Intelligent Virtual Assistant handles approximately 56% of in scope calls without requiring live agent assistance, saving 80%+ for calls managed fully by the IVA compared to the average cost per call of those managed by a live CSR.
Phase two of the project will extend automation to the web through a visual human avatar ?concierge? that uses artificial intelligence and natural language understanding to interact conversationally with users and deliver accurate, efficient responses.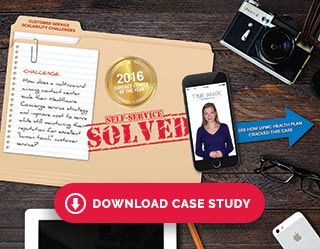 "True Image Interactive has been a valuable partner. Our implementation went extremely well. The results speak for themselves ? their people are knowledgeable and we are excited to measure the value of future implementations of their human avatar technology."
MARY BETH JENKINS
Senior VP and COO, UPMC Health Plan and UPMC WorkPartners
Contact Center Awards

Member Services Department named a 2015 Gold Stevie? Winner in the "Contact Center of the Year" category

Named the "Best in Class Call Center" at IQPC?s Call Center Week Awards in 2015 and 2016